Date:
Saturday, January 6, 2018
Distance: 65 miles
Start Time: 7:30 am
There will be a mass start at 7:30 AM and announcements and time for questions at 7:15.
Start Location: Fountain Hills Blvd, Fountain Hills, AZ (Get directions)
Time Limit: 7 hours
Sunrise:
7:33 am
Sunset:
5:27 pm
Cost: $20 Pre-registration only. No day-of-event registration.
RUSA sanctioned.
Saguaro Lake 100k

This is a very scenic route through Fountain Hills & East Mesa. Enjoy grand views of the Superstition Mountains, Four peaks, Red Mountain & Saguaro Lake. If you're lucky, you might even catch a glimpse of the mob of Wild Horses who make their home in the Red Mountain wilderness. There are very few flat sections on this route, but the climbs tend to be short and evenly spaced. The Bush highway & Usery Pass section (about 45-miles), is arguably the most beautiful route in the Phoenix area.

This route has abundant climbing for an early season ride. The descents do pay you back, though.
Location: Fountain Hills Blvd, Fountain Hills, AZ
Address: Intersection at Palasades and Fountain Hills Blvd

13733 North Fountain Hills Blvd, Fountain Hills, Arizona 85268
Directions:
Safeway and Starbucks Coffee.
Google map:
Click here
View on line map here

Note: The Ride With GPS map may be used to download a file for your GPS, if you wish. Remember, though, that the route sheet you receive at the start of the ride is official, this map IS NOT.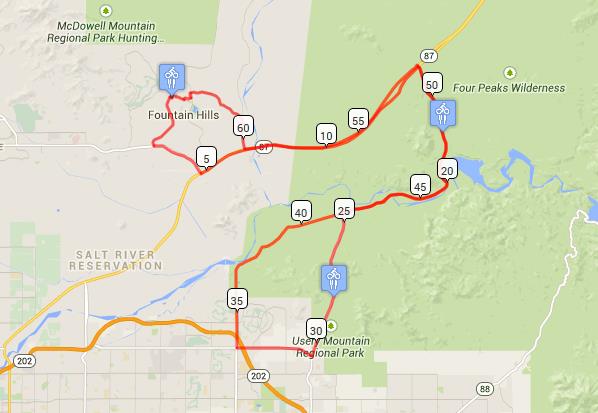 Cue sheets will be handed out at the start of each event. Copies are provided here for planning purposes. Make sure you use the cue sheets provided on the morning of the ride. They will be the most up to date.

About 3,500 feet of climbing. Minimum/maximum elevation: 1300 / 2100 feet above sea level
Lights: Optional. However, if you're still riding after sunset, you need lights as required by law.
Start: Safeway/Starbucks – The start/finish control is at the southeast corner of Palasades & Fountain Hills Blvd in the Safeway parking lot.

Address: 13733 North Fountain Hills Blvd, Fountain Hills, Arizona 85268

Google Map: http://goo.gl/maps/qIeED

The Start/ Finish will be located in Fountain Hills, AZ. A Google map may be found here.
Here is a detailed map of the Start/Lunch/Finish. It can be confusing because we enter/leave the plaza from different directions and meet at different places at different times.
1) START: Park behind the Pizza Hut. We will meet there for the ride start
2) FINISH/LUNCH: Will be at Subway. I will also be there to CHECK you in.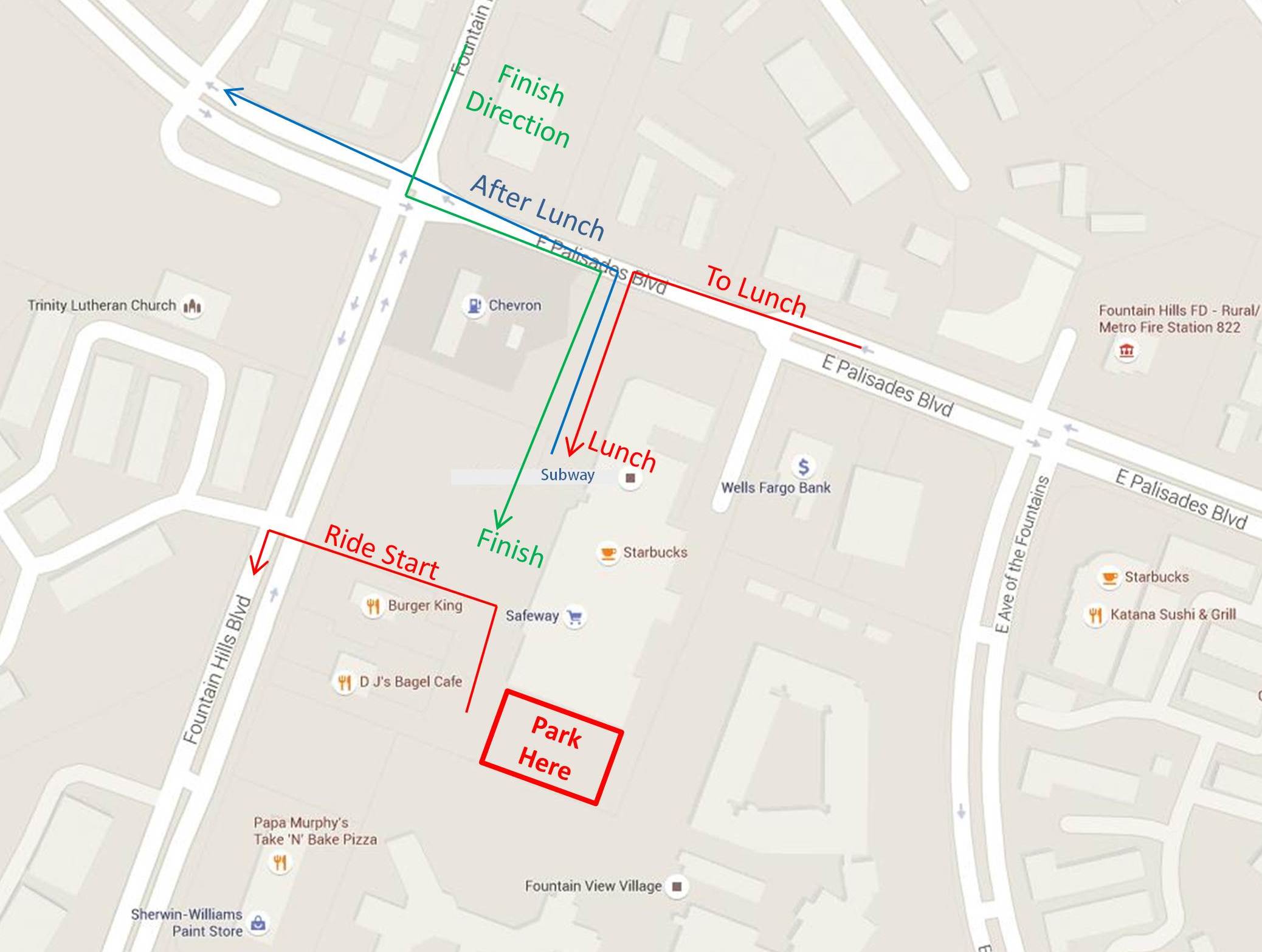 Click Image for a High-Rez View
Checkpoint #2
is at the top of the second climb (Usery Pass). This will be a staffed control with some snacks and water.
Checkpoint #3
will be near the top of your 3rd climb. This control will also be staffed with snacks and water.
Checkpoint #4
will be back at the Start/Finish location. This will be your lunch stop. Lunch will be served at the Subway. You'll be able to order any 6" sub, chips and drink from the Subway in the plaza. There are also vegetarian options there.
Rider limit:
100 riders
Mike Sturgill
is your trail boss for this ride. Still have questions? Contact Mike
HERE
.
| Rider Name | RUSA # | City | State/Prov |
| --- | --- | --- | --- |
| Carlton van Leuven | 4713 | Chandler | AZ |
| Dave Lehnen | | Tempe | AZ |
| David Brake | 7351 | Mesa | AZ |
| Dennis Miller | | Scottsdale | AZ |
| Dennis Freeman | 9252 | Phoenix | AZ |
| Don Andre | 7931 | Basalt | CO |
| Dwight Stoup | 7420 | Phoenix | AZ |
| Ed Turner | | Scottsdale | AZ |
| Frank Thomas | | Scottsdale | AZ |
| James Angle | | Golden Valley | MN |
| Jason Palmer | | Scottsdale | AZ |
| Julie Brass | 9284 | Scottsdale | AZ |
| Kathryn Angle | | Golden Valley | MN |
| Melinda Berge | | Park City | UT |
| Randall Grace | 1952 | Phoenix | AZ |
| Sara Diercks | | Scottsdale | AZ |
| Sidney Ogino | | Peoria | AZ |
| Steve Brass | 9283 | Scottsdale | AZ |
| Steve Scriven | | Scottsdale | AZ |
| Thomas Timmer | | Scottsdale | AZ |
| Tim Schwimer | | Scottsdale | AZ |
| William Bennett | 4718 | Woodbury | MN |
| William Chambers | | Park City | UT |