Date:
Saturday, March 3, 2018
Distance: 251 miles
Start Time: 6:00 AM
Registration opens at 5:30 AM. There will be a mass start at 6 AM.

Start Location: Bashas, Sun Lakes, AZ (AtB 400k start) (Get directions)
Time Limit: 27 hours
Sunrise:
6:51 AM
Sunset:
6:27 PM
Moonrise:
11:10 a.m. Waning Crescent with 42% of the Moon's visible disk illuminated.
Moonset:
12:05 a.m.
Cost: $40 All riders must pre-register. (No day of event registration.)
ACP sanctioned.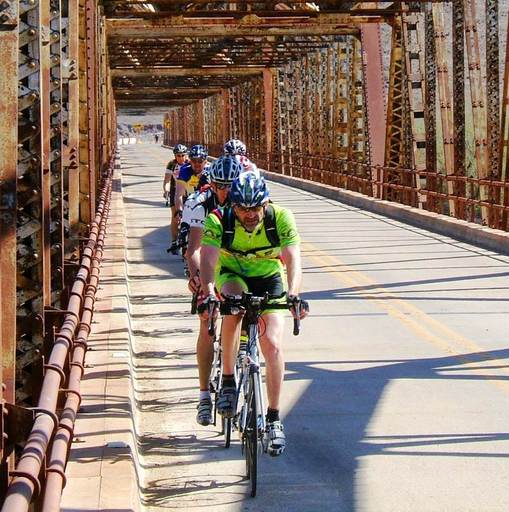 Carlton Crossing Gillespie Bridge with Friends
Around the Bend 2017 Description
The Around the Bend brevet route can be described as City meets Desert meets Farm meets Reservation in a repeating cycle. The route starts and finishes in Sun Lakes and travels in a counter-clockwise direction.
The route travels along most of the length of the Valley of the Sun. This is on roads that generally only skirt the southern reaches of the cities of the Valley, which together comprise the fifth largest metropolitan area in the United State. Much of the first half of the route is across desert and reservation land. The second half is primarily city and farm land. The roads were chosen to minimize traffic and stop lights, and many are formerly key roads that have been superseded by Interstate and highways, leaving them for cyclists to enjoy.
Services are located at regular intervals along the route. Towns and cities visited: Casa Grande, Sacaton, Casa Blanca, Maricopa, Gila Bend, Arlingon, Buckeye, Estrella, Phoenix, Laveen, Komatke, Sun Lakes, Chandler, Gilbert, Queen Creek and Coolidge.
Terrain: The route follows the Gila and Salt River Valleys as it winds between several mountain ranges. While this route is relatively flat by Arizona brevet standards, with 2858 feet of total climbing, it differs from flat routes in other parts of the country in that it offers continually changing views of mountains in all directions along the entire course.
"I don't know what lies around the bend, but I'm going to believe that the best does. It has a fascination of its own, that bend, Marilla. I wonder how the road beyond it goes--what there is of green glory and soft, checkered light and shadows--what new landscapes--what new beauties--what curves and hills and valleys further on."
From Anne Of Green Gables by Lucy Maud Montgomery
Location: Bashas, Sun Lakes, AZ (AtB 400k start)
Address:
10325 East Riggs Road, Sun Lakes, AZ 85248
Directions:
Bashas parking lot
Click here for a Google map.
Cue sheets will be handed out at the start of each event. Copies are provided here for planning purposes. Make sure you use the cue sheets provided on the morning of the ride. They will be the most up to date.

~2600 feet of climbing.





Farms Meet Mountains
Lights, reflective vest, ankle bands: Required. There will be a light inspection at check-in to verify front and rear lights are working and are sufficient for night riding.