Date:
Saturday, January 6, 2018
Distance: 126 miles
Start Time: 7:30 am
There will be a mass start at 7:30 AM and announcements and time for questions at 7:15.

Start Location: Fountain Hills Blvd, Fountain Hills, AZ (Get directions)
Time Limit: 13.5 hours
Sunrise:
7:33 am
Sunset:
5:27 pm
Cost: $30 Pre-registration only. No day-of-event registration.
ACP sanctioned.
Saguaro Lake 200k

This is a very scenic route through Fountain Hills & East Mesa. Enjoy grand views of the Superstition Mountains, Four peaks, Red Mountain & Saguaro Lake. If you're lucky, you might even catch a glimpse of the mob of Wild Horses who make their home in the Red Mountain wilderness. There are very few flat sections on this route, but the climbs tend to be short and evenly spaced. The Bush highway & Usery Pass section (about 45-miles), is arguably the most beautiful route in the Phoenix area.

This route has abundant climbing for an early season ride. The descents do pay you back, though.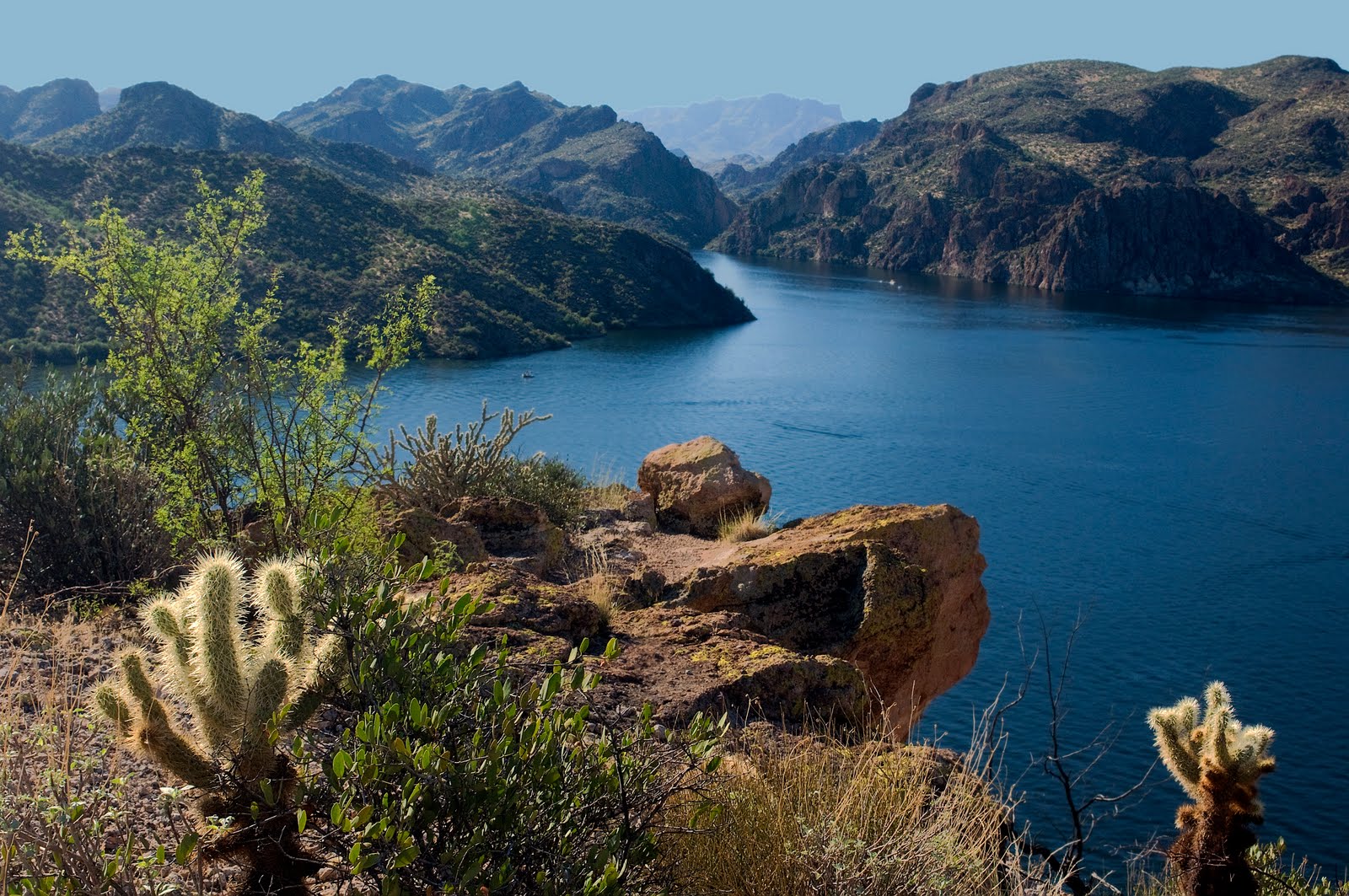 Saguaro Lake looking up the canyon to the Salt River.
Location: Fountain Hills Blvd, Fountain Hills, AZ
Address: Intersection at Palasades and Fountain Hills Blvd

13733 North Fountain Hills Blvd, Fountain Hills, Arizona 85268
Directions:
Safeway and Starbucks Coffee.
Google map:
Click here
View on line map here

Note: The Ride With GPS map may be used to download a file for your GPS, if you wish. Remember, though, that the route sheet you receive at the start of the ride is official, this map IS NOT.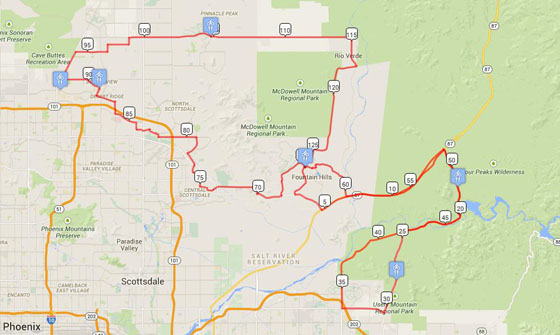 Cue sheets will be handed out at the start of each event. Copies are provided here for planning purposes. Make sure you use the cue sheets provided on the morning of the ride. They will be the most up to date.

Total climbing is about 6000 ft., depending on which measurement device you use.

Take note of the route profile as the climbs on this ride are not rollers, but long, steady climbs. None of the individual climbs are particularly difficult, but their cumulative effect on your legs will be apparent. The descents are particularly fun!
Riders are expected to do simple repairs such as repair a flat tire.
Lights, safety vest/belt, and ankle bands are required if riding after sunset. Note that there is only about 10 hours of light for this ride since sunset is at 17:30. You should plan to have lights and reflective equipment with you at all times.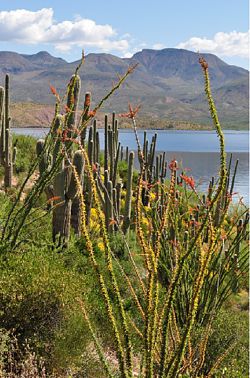 This brevet is definitely more challenging than past 200k brevets offered this early in the season. It's not crazy difficult, but if this is your first ride in 2 months, you might be cursing the ride organizer at the finish. If you maintain a steady pace and don't linger at the controls, you can finish this in fine form.
The Start/ Finish will be located in Fountain Hills, AZ. A Google map may be found here.
Here is a detailed map of the Start/Lunch/Finish. It can be confusing because we enter/leave the plaza from different directions and meet at different places at different times.
1) START: Park behind the Pizza Hut. We will meet there for the ride start
2) LUNCH: Will be at Subway. I will also be there to CHECK you in (100k finish location)
3) FINISH: Will be at Starbucks inside Safeway. I will be there to strong>CHECK you in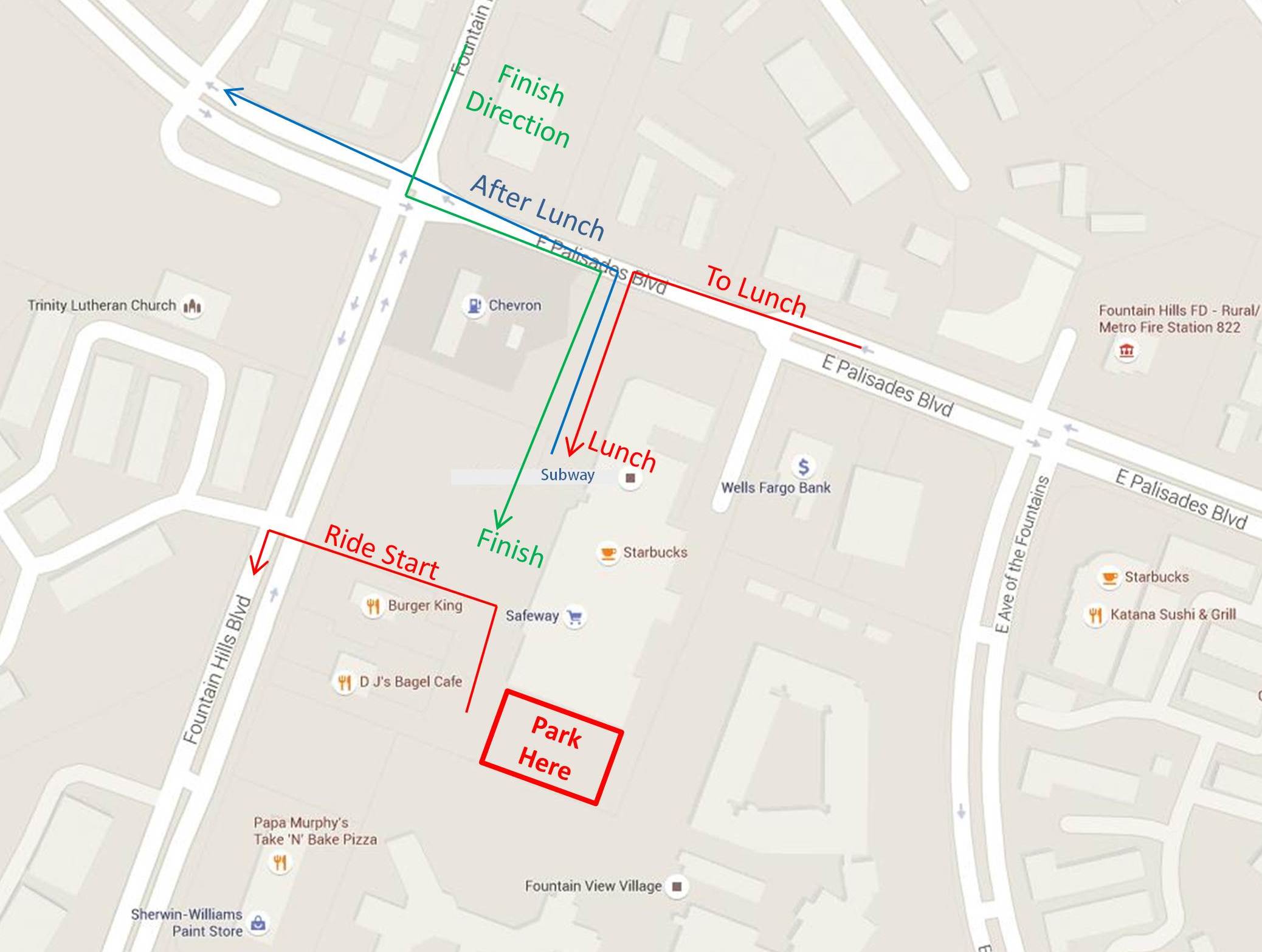 Click Image for a High-Rez View
Checkpoint #2 is at the top of the second climb (Usery Pass). This will be a staffed control with some snacks and water.
Checkpoint #3 will be near the top of your 3rd climb. This control will also be staffed with snacks and water.
Checkpoint #4 will be back at the Start/Finish location. This will be your lunch stop. Lunch will be served at the Subway. You'll be able to order any 6" sub, chips and drink from the Subway in the plaza. There are also vegetarian options there.
Checkpoint #5 will be located in Cashman Park in North Phoenix. This will be a staffed control with snacks and water.
Checkpoint #6 will be your last control on the route and at the top of the 5th, and final, climb! This control will be at a convenience store and will not be staffed. You will need to get a receipt or have your card signed by a store attendant.
After this control, you get to enjoy "9 mile hill." This will be a nine mile descent followed by a very picturesque ride past McDowell Mountain Park back to Fountain Hills. Keep your eyes open as you approach Fountain Hills. The fountain goes off every half hour and can be seen from the route.
Checkpoint #7 is in Fountain Hills and is the finish!
Rider limit: 100 riders
Mike Sturgill is your trail boss for this ride. Still have questions? Contact Mike HERE.
| Rider Name | RUSA # | City | State/Prov |
| --- | --- | --- | --- |
| Art McWhirter | | Scottsdale | AZ |
| Brian McGuire | 7406 | Phoenix | AZ |
| Catherine Dickson | 11693 | Glendale | AZ |
| Cole Larson-Whittaker | | Mesa | AZ |
| Craig Stoffel | 9056 | Phoenix | AZ |
| Dan Vigano | | Scottsdale | AZ |
| Dennis Sieber | 9202 | Anthem | AZ |
| Harold Kloepfer | 5623 | Yuma | AZ |
| Ilyssa Summer | | Tempe | AZ |
| James Matt | | Scottsdale | AZ |
| James Harness | | Phoenix | AZ |
| Jennifer Moore | 11755 | Phoenix | AZ |
| Jennifer Danhaus | 8700 | Wausau | WI |
| Jim Pettett | 5824 | Cave Creek | AZ |
| Ken Hackler | | Phoenix | AZ |
| Kristian Doak | 11713 | Tempe | AZ |
| Lee Wilkening | 10970 | Phoenix | AZ |
| Marie Michalski | | Calgary | AB |
| Michael Garrett | 11701 | Sammamish | WA |
| Mike Sturgill | 1847 | Phoenix | AZ |
| Paul Danhaus | 1940 | Wausau | WI |
| Rashid Khan | 11754 | Phoenix | AZ |
| Robert Larson | 9945 | Phoenix | AZ |
| Roger Peskett | 3726 | Tucson | AZ |
| Russell Cummings | 5815 | Prescott | AZ |
| Ryan Guzy | 6005 | Tempe | AZ |
| Scott Calhoun | 11733 | Tucson | AZ |
| Steve Atkins | 3359 | Tempe | AZ |
| Susan Stack | 12268 | Yuma | AZ |
| Tom Caretto | | Phoenix | AZ |
| Trev Williams | | Calgary | AB |
| William Timothy | 10090 | Brooklyn | NY |