Date:
Saturday, February 3, 2018
Distance: 187 miles
Start Time: 07:00 (7 am)
There will be a mass start at 7 AM and announcements and time for questions at 6:45.
Start Location: Desert Ridge Mall, North Phoenix, AZ (Get directions)
Time Limit: 20 hours
Sunrise:
7:21 am
Sunset:
6:04 pm
Moonrise:
5:36 AM Waning Crescent with 4% of the Moon's visible disk illuminated.
Moonset:
4:25 PM
Cost: $30 All riders must pre-register. (No day of event registration.)
ACP sanctioned.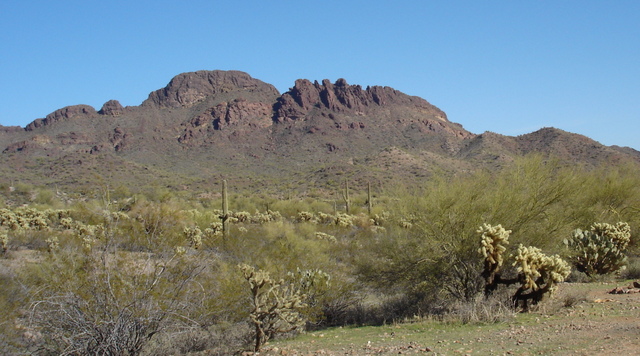 View of Vulture Peak as you descend Vulture Mine Rd
This is a "figure 8" route which stays predominantly in the far west valley. You will start by making your way across Phoenix on your way to the first control. Once you leave this control, you will be heading out into the wide open spaces of Arizona. There will be very little to slow you down for about the next 130 miles! There will be no climbs to worry about, but the desert can be unforgiving if you allow yourself to become dehydrated. You will ride through a couple areas where you will find civilization, but it will mostly be you, your bicycle, and the desert. Between miles 65-150, you will probably wonder why the roads were even built. I, too, wonder why. They seem to be roads to nowhere. Make sure you refuel at the few locations which are available. This segment will be on the namesake Vulture Mine Road. This is a hidden treasure. It is nearly deserted most of the time and will offer some nice views of the desert and some colorful formations near the Vulture Mine. When you reach Sun City, your desolation is over. You are now back in the metropolis. You'll find, though, that the roads are less trafficy than you'd expect. The last 50 miles are pancake flat and and should have a prevailing tailwind pushing you home. There's a whopping total of about 3,800 feet of climbing. Route map here: RideWithGPS map
Location: Desert Ridge Mall, North Phoenix, AZ
Address: Albertson's Desert Ridge: 21001 North Tatum Blvd STE 76 Phoenix, Arizona 85050
Directions:
Albertson's and Starbucks Coffee.
Google map:
Click here
Map of Start/Finish location:
[Click map for Hi-rez image]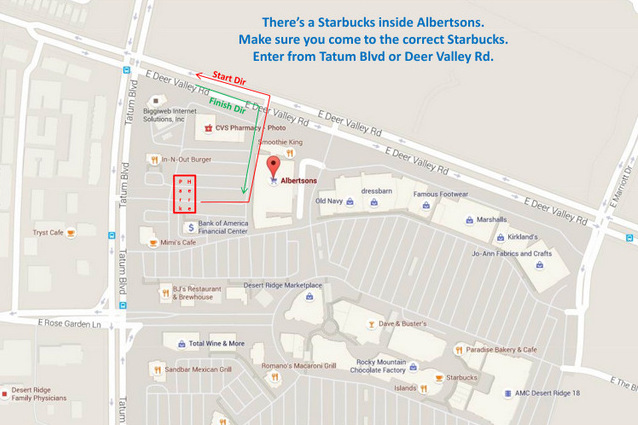 View on line map here

Full route shown below: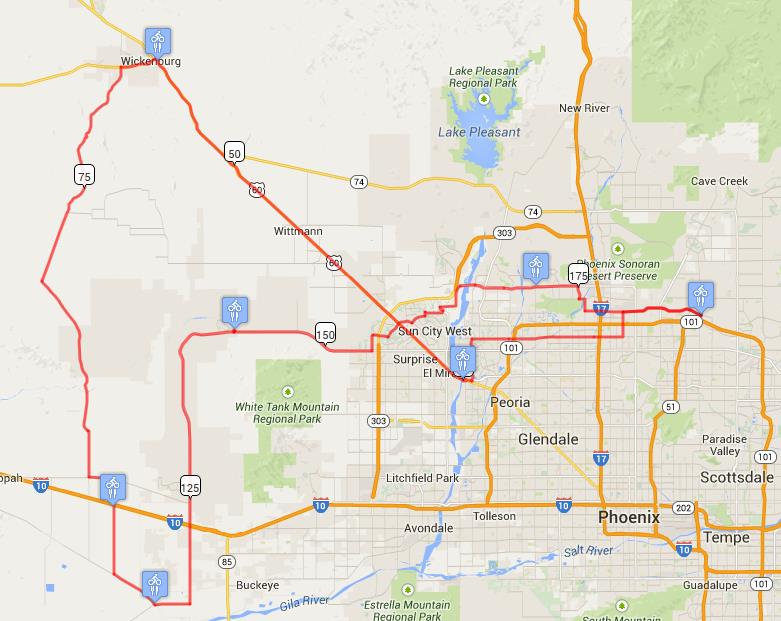 Cue sheets will be handed out at the start of each event. Copies are provided here for planning purposes. Make sure you use the cue sheets provided on the morning of the ride. They will be the most up to date.

Route Elevation "Profile" as it were.
Lights: Required. There will be a light inspection at check-in to verify front and rear lights are working and are sufficient for night riding. Also required are reflective vest or sash and ankle reflectors.
Start: Albertson's/Starbucks – The start/finish control is at the southeast corner of Tatum Blvd & Deer Valley Rd in the parking lot in front of Albertson's/Starbuck's.

Address: 21001 North Tatum Blvd STE 76, Phoenix, Arizona 85050 (480) 342-8231

Google Map: http://goo.gl/maps/Algpq

Map of Start/Finish location: [Click map for Hi-rez image]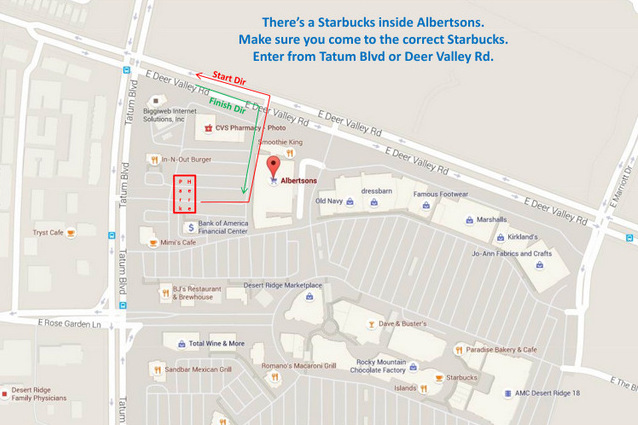 Rider limit: 50 riders

Mike Sturgill is your trail boss for this ride. Still have questions? Contact Mike HERE.


| Rider Name | RUSA # | City | State/Prov |
| --- | --- | --- | --- |
| Clifford Anderson | 12339 | Tempe | AZ |
| Jim Pettett | 5824 | Cave Creek | AZ |
| Luciano Oliveira | | Chandler | AZ |
| Mike Sturgill | 1847 | Phoenix | AZ |
| Steve Atkins | 3359 | Tempe | AZ |
| Susan Stack | 12268 | Yuma | AZ |
| William Timothy | 10090 | Brooklyn | NY |