Date:
Saturday, April 7, 2018
Distance: 375 miles
Start Time: 05:00
There will be a mass start at 5 AM and announcements at 4:45.

NOTE: Updated on 2/16/2017. The route has changed slightly for 2017. This year, we'll be turning around in Prescott Square. This is the nicest area of Prescott and a great place for lunch!

Start Location: Hilton Garden Inn, North Phoenix (Get directions)
Time Limit: 40 hours
Sunrise:
6:06 AM
Sunset:
6:54 PM
Moonrise:
4:46 p.m. Nearly a FULL MOON! Waxing Gibbous with 94% of the Moon's visible disk illuminated.
Moonset:
4:41 a.m. on following day
Cost: $60
ACP sanctioned.

"The Square" in Prescott, AZ
Blow by Blow: We'll start in North Phoenix with a gentle ascent up to Cave Creek to warm up while still in the confines of the city. These are nice roads that will be mostly deserted in the early morning.

After your first control, you will mostly descend for the next 20 miles or so, then head out into the open desert on the Carefree Highway with lots of open miles and no impediments to slow you down. As the sun gradually rises behind you and the desert air warms you up, you'll reach your 2nd control in Wickenburg. You'll want to fuel up here because the climbing is about to start.

Heading out of town will provide some annoying miles getting to the base of the infamous Yarnell Hill. 6 miles at 6% awaits you. The views on the climb are worth the effort. After you reach the town of Yarnell, you'll slowly descend through the ranch lands of the always beautiful Peeples Valley. Look ahead of you to see the White Spar Mountains. You'll switchback your way to the summit at 6200'. Did someone tell you that Arizona is flat?

Next you'll descend into the old west town of Prescott and ride around Prescott Square and Whiskey Row. This is a great place to visit and you have your choice of places to eat on the Square. Take a few minutes and enjoy the Old West here. By now, you'll be ready for some food!

To get back, you'll retrace your route back through Wickenburg, but this time descending White Spar and Yarnell Hill! After Wickenburg, instead of heading across the Carefree Highway you will continue your gradual descent into the far west Phoenix metro area before you turn back north to return to the hotel from which you started.

400 km down and 200 km to go. You can choose to get some sleep and finish the remaining 200k tomorrow morning, or continue to ride straight through. The final 200 km of the route will be similar to our Saguaro Lake 200k brevet.

Sound interesting? Challenging? Consider joining us on this event. You'll get to see a diverse range of Arizona packed into a challenging couple days.
Location: Hilton Garden Inn, North Phoenix
Address: Hilton Garden Inn, 1940 W Pinnacle Peak Rd, Phoenix, AZ 85027
Directions:
Take I-17 to Pinnacle Peak Rd. Go EAST for 1 mile. On the NW corner of Pinnacle Peak R & 19th Ave
Google map
HERE
Hilton Garden Inn website
HERE
View on line map here

The "Scorpion!"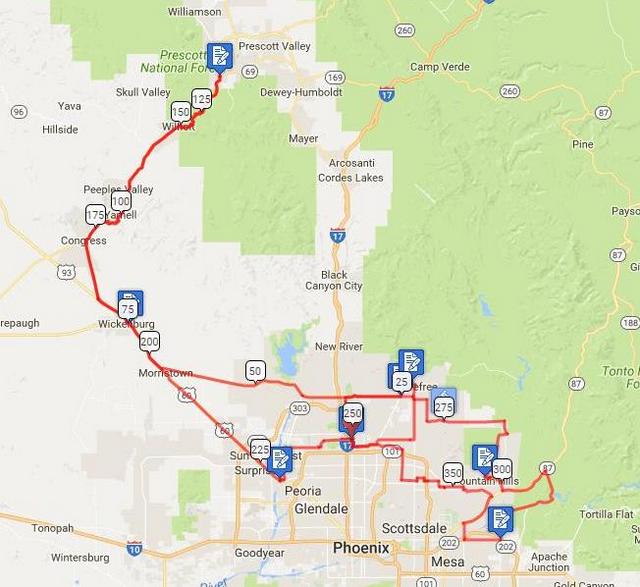 Cue sheets will be handed out at the start of each event. Copies are provided here for planning purposes. Make sure you use the cue sheets provided on the morning of the ride. They will be the most up to date.
Approx 16,000 feet of accumulated elevation gain
Minimum/maximum elevation: 1100 / 6200 feet above sea level.

Lights: Required. There will be a light inspection at check-in to verify front and rear lights are working and are sufficient for night riding. Also required are reflective vest or sash and ankle reflectors.
Hydration System: Much of the route is very remote with no services. Check the cue sheet carefully to determine how much water you need to carry to get you to the next water hole.
Services will be listed on route sheet

Numerous services are also shown on the RWGPS map.
| Rider Name | RUSA # | City | State/Prov |
| --- | --- | --- | --- |
| Mike Sturgill | 1847 | Phoenix | AZ |