Date:
Saturday, June 2, 2012
Distance: 190 miles
Start Time: 5:00 AM
There will be a mass start at 5 AM and announcements and time for questions at 4:45.
Start Location: Motel 6, Flagstaff (Get directions)
Time Limit: 20 hours
Sunrise:
5:12 AM
Sunset:
7:37 PM
Moonrise:
7:46 AM Saturday, Moon is only 9% illuminated
Moonset:
10:11 PM Saturday
Cost: $30 All riders must pre-register. There is no day-of-event registration.
ACP sanctioned.
The 300k brevet is a loop which starts in Flagstaff and goes to the Grand Canyon in a clockwise direction before returning to Flagstaff. >
Terrain: The 300k and the first loop of the 600k are strongly rolling.
Location: Motel 6, Flagstaff
Address: Motel 6, Woodlands Village Mall, S. Woodlands Village Blvd, Flagstaff
View on line map here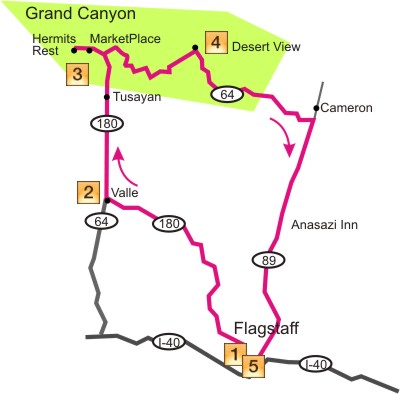 Cue sheets will be handed out at the start of each event. Copies are provided here for planning purposes. Make sure you use the cue sheets provided on the morning of the ride. They will be the most up to date.
Total elevation gain for the 300k is 9,400 feet.

Lights: Required. There will be a light inspection at check-in to verify front and rear lights are working and are sufficient for night riding. Also required are reflective vest or sash and ankle reflectors.
No registered riders at this time.